Sacred Heart Global Plaza (Building No.4)
Sacred Heart Global Plaza is located on the first to third floors in the 4th building of University of the Sacred Heart.
We provide open access to the community and wider society, offering education and research, as well opportunities to make social contributions through collaboration, on both a local and global scale.
『"Le Pommier d'Or, golden apple"』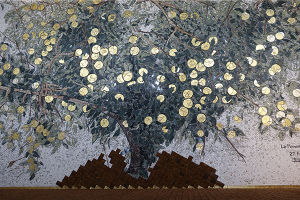 Mural painting "Le Pommier d'Or, golden apple"
"Le Pommier d'Or, golden apple" originated from Greek mythology, but the theme is deeply connected to biodiversity and sustainable society, both of which are critical for contemporary culture and civilization. The mural represents the importance of confronting global problems, as well as taking action, through refining our human thought and sensibility. Through this learning process, we can care for the lives of others, and all things. This mural is made of natural stones from all over the world, including countries in Europe, Africa, Asia and America.
"I hope that the 'golden apple' will be a symbol of the intellect and culture of the students of the Sacred Heart University, and eventually, I hope it becomes a symbol of a sustainable world."
Mr. Kyoji Takubo, artist of the mural
(Quote from the University of the Sacred Heart Education Guidebook 2018)
Café Jasmin Temporary close December 23, 2018→Mid March, 2019
Café Jasmin is open to everyone, not only students and staff, but also all visitors to the Global Plaza. The themes of this café include "diversity" and "sustainability", both which are deeply connected to "global" and "symbiosis". In the Persian language, "Jasmin" means "a gift from heaven", so we have given this name to our café because we believe it represents a special place for everyone.
Café Jasmine will temporary close for renewal from December 23, 2018 to mid March, 2019. We apologize for any inconvenience and please expect the renewal open scheduled in the cherry blossom season.
BRITT MEMORIAL HALL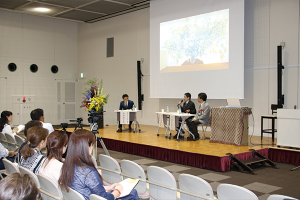 On the 3rd floor of building 4, there is a hall with audiovisual equipment and movable chairs, accommodating 550 people. This hall is named "Britt Memorial Hall" after Mother Britt, an American Sister who took office as the first president of the university, at the time of its founding in 1948. President Britt established the foundation of the University of the Sacred Heart as a Liberal Arts university, and dedicated the following 19 years of her life to the university, retiring in 1967. Always calling on students to be prepared to act for any cause in society, she devoted herself to nurturing women to be actively and practically involved in society.