Sacred Heart Institute for Sustainable Futures(SHISF) conducts education, research and social activities through interaction and mutual cooperation, based on the educational philosophy of the University of Sacred Heart. As human beings who share this earth, we look at the region, and the world at large, and interact with people, with the aim of realizing a sustainable and peaceful world.
The institute supports vital research and education, as a way to foster humans with a broad perspective, sensitivity and flexibility, by focusing on the teaching and practice of critical and practical thought. More specifically, the institute aims to engage people to "encounter, question, and take action".
The BE*hive is where we encounter, and are challenged by questions, through exhibitions and workshops. Using critical thought, we face the problems of the world, and from there, hone our intellect, through learning and research, while actively working to solve these problems. Through this model, our institute serves as a catalyst for forging fruitful collaborations and synergistic relationships within the local community, and the world at large.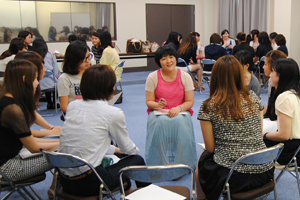 Supporting activities (NPOs, NGOs, and regional support)
Our institute is based on the educational philosophy of the University of the Sacred Heart, which aims at, "educating wise women who contribute to building a better society with a sense of solidarity and mission, as members of the world". In implementing this philosophy, we engage in activities with current students, graduates, students of sister schools, NGOs, NPOs, and community stakeholders. We would like to continue to emphasize and build on these activities in the future.
Greetings from the Director
Over the past 25 years, I have been wearing two shoes; one as a professor in the university, and the other as a staff member of an NGO. Being appointed director of this institute makes me even more passionate about working hard for both these organizations.
Since I was a student, I strongly wished to change this world and society for the better. In my final years before retirement, I will dedicate my time and energy to this institute, to the students, and to the community at large. I appreciate your understanding, support and participation.
OHASHI Masaaki(Professor of Human Relations)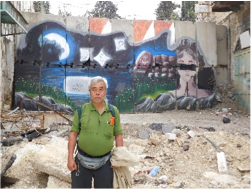 On March 19, 2017
in Hebron (a city of the West Bank, near Jerusalem)
Institute Members
Director

OHASHI, Masaaki, Professor of Human Relations (International Development Studies, NGO · NPO Theory, South Asia Area Studies)

Deputy Director

NAGATA, Yoshiyuki, Professor of Education (Education for International Understanding, ESD [Education for Sustainable Development], Educational Sociology)
OGAWA, Sayuri, Professor of International Studies (Comparative Culture, Intellectual History of Relationship of Christianity and Shintoism, Gender Studies in Japanese Language)

Staff Members

BUSHELL Brenda, Professor of Department of English Language, Communication and Cultures (Sustainable Society, Sustainable Development, Gender Studies, English Language Education)
ISHII, Yoko, Associate Professor of Human Relations (Cultural Anthropology, Studies of Culture and Development, Migration Studies, African Studies)
SAKAI, Kazuho, Lecturer of History (Modern Japan)
IWATA, Kazunari, Associate Professor of Japanese Language and Literature (Japanese Language Education, Japanese Grammar)
KATO, Kazuya, Professor of Philosophy (Christian studies, esthetics, Western Middle age Christian thought )
KOHZAKI, Yuko, Lecturer of Psychology (Geriatric Psychology, Clinical Psychology)
HAYASHI, Makiko, Assistant Professor (Sociology of Education,Educational Development,InclusiveEducation,Comparative Educational policies,Cambodian Research)

Chief of Secretariat