BE*hive (Exhibition Space)

The BE*hive, which is a designated area within the Sacred Heart Institute for Sustainable Futures, is a most important space for students and visitors to meet and engage in critical thought, while being challenged by "quality questions". We sincerely hope that you will encounter various global issues through our exhibitions and workshops, and then begin to sharpen your intellect by studying these issues, and/or actively joining with others to propose solutions for these issues.
BE*hive's "BE" originates from UNESCO's call for "Learning to Be", and from Rev. Thich Nhat Hanh, a Vietnamese Buddhist monk who created a new word "Interbeing", which reflects the word "Kyosei", or "Symbiosis". These "Bes" are rightly nurtured in this Hive.
Le Pommier d'Or, the majestic apple tree mosaic located on the ground floor of this building, is symbolic of the BE*hive space. To bear apples, bees are indispensable for pollination. Thus, our BE*hive is the starting point for students to engage in various issues, and as a result, bearing fruits in the future, harvesting sustainability in spots around the globe.
Director of Sacred Heart Institute for Sustainable Futures
OHASHI Masaaki
BE*hive Floor Map
This exhibition's theme is about
"Forcibly displaced people in the Middle East".
Syria is a country nurtured by a long and rich history.
Yemen is a country where civilization has flourished over time, due to its location as a transit trade point via the Red sea.
What is happening in such countries where peaceful lives are being destroyed by conflict?
What about the people? What are on their minds?
Please consider what kind of action you would take in this situation.
Artists are exhibiting objects created with the image of refugees.
What kind of feelings does this bring about within you?
Permanent Exhibitions
About the theme of
"Refugees and Displaced People"
The first theme of our exhibition space will be "Refugees and Displaced People", with sub-themes, including "Refugees in Japan", "Refugees in the Middle-East" and "Refugees in Asia and Africa", which will be introduced in turn every five to six months. Our workshops and activities are based on this theme and sub-themes.This theme was selected as a number of our university students, sister schools, graduates, teachers and staff members are involved in this issue.
Through this theme and the activities connected to this theme, we aim to send the message that, "refugees and displaced people from around the world are our own issue, not the issue of others". Not only because they are nearby to us now, but also because we were once in a similar situation several decades ago, and may once again be in the future.
Let us begin to realize globally sustainable futures where no displacement takes place, and where the displaced peacefully return back home, and/or live together with us in harmony.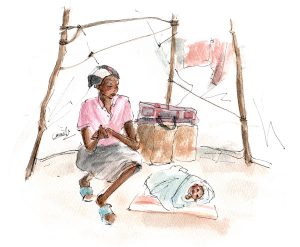 Special Exhibition
Acceptance of Refugees in Japan ~ Living with Refugees ~
Organizer:Foundation for the Welfare and Education of the Asian People Refugee Assistance Headquarters
Exhibition period:August 16th, 2017 - September 24th, 2018
Workshop on Development Education・Education for International Understanding
Problems occurring on Earth such as climate change, conflict, poverty, and food security are part of our everyday lives. How can you contribute to a better future? In the NPO Corporate Development Education Association (DEAR) we will carry out various participatory workshops in collaboration with the BE*hive, from the viewpoint of action-taking.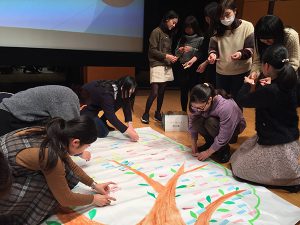 Hours・Admissions
Hours Open

Monday-Friday:10:00am-6:00pm
Saturdays:11:00am-4:00pm (Sep 30,Oct 7 closed)

Closed

Sundays & Holidays (except 10/9,11/3)・12/23-1/8

When temporary closed , we will notify by "News" .

Admission

Free
Please inform us when a group of more than twenty is expected to come.