In this column, we will introduce several BE * hive exhibitions. This time we will introduce the "Nowhere People : The World's Stateless" section.
This section is an exhibition of photographs by volunteer students of Sacred Heart University which is held as a special BE*hive project. With the cooperation of the UNHCR Japan office, volunteer students selected several photographs for display taken by Mr. Greg Constantine, a photographer based in Southeast Asia.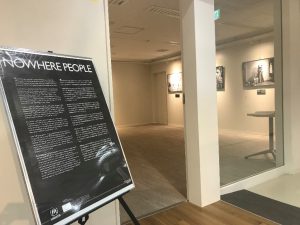 Nationality might seem like a universal birthright, but at least 10 million people around the world are living without it. These stateless people are frequently without a legal identity, are citizens of no country and are some of the most vulnerable and invisible people in the world.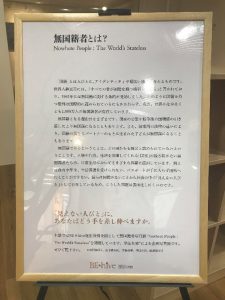 Since 2005, photographer Greg Constantine has been working to bring to light the stories of stateless people around the world and to give a human face to this global issue. The exhibition Nowhere People reveals the impact of statelessness on people and communities who find themselves excluded from society by forces beyond their control. The project serves as a reminder of the existence of the millions of stateless people who are hidden and forgotten around the world.
How can you reach out to "invisible people" who are stateless people?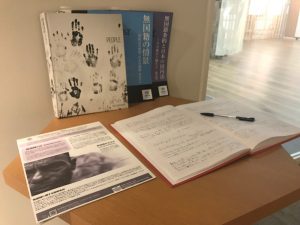 You can also see Mr. Constantine's photo collection.
Next time we will introduce many wonderful art works in BE*hive. Please look forward to it!
(Written by staff member, Yukiko Iwaoka)