Reconsidering our daily life SDGs/ Climate Action
Diversity in richness to hand over to the future
Global Issues………
What kind of image do you have about global issues? Something happening somewhere far away from us, some people may feel helpless because it may seem like an enormous problem.
Concerning climate change, there are many things that we can do in our daily life to control greenhouse gases, such as carbon dioxide (CO2), which is the main cause of global warming.
Social transformation begins with self-transformation.
In this exhibition, we will look at "SDGs/ Climate Action" for that purpose, together with Mr. Yoshiyuki Morioka of Morioka Shoten "The Bookstore that Sells One Book".
Rather than enduring life, we will be grateful and joyful for our daily life.
Spending one sustainable day with Mr. Morioka,  we would like to make sure that we are on the path to a sustainable future.
Born in Yamagata Prefecture in 1974. The representative of Morioka Shoten.
His books include Books on Japan 1931–1972 Japan's Foreign Promotion Graph Magazine (BNN Shinsha) and Secondhand Bookstore in the Wilderness (Shobunsha).
Among the exhibitions in which he cooperated in the planning, they include "Miscellaneous exhibition" (21_21 DESIGN SIGHT), "Crafts by the side" (Shiseido Gallery), "Awe and Crafts" (Yamagata Biennale 2016), and "Khadi India's Tomorrow" (21_21 DESIGN SIGHT). His works also include the Book Select at the café library of the guesthouse "Kawa" in Wakuden, Kyoto and the "Handwork of Hermes" exhibition. Contemporary Ginza Thoughts is being serialized on the Shiseido "Hanatsubaki" website.
In May 2020, he planned, edited, and published the photo book Ginza Tokyo 1964 by Ko Ito.
In this movie, we followed Mr. Morioka of Morioka Shoten (bookstore) for a day.
From Mr. Morioka's perspective, let's think about what you can do in your daily life.

Exhibition Movie"Diversity in richness to hand over to the future"

"8 Windows of SDGs"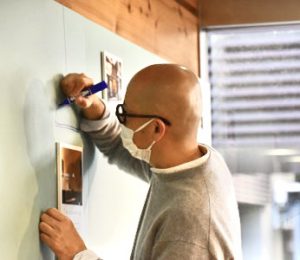 Qlick here to see the windows.👇


Qlick here for Ginza Sustainable map👇
URBAN SUSTAINABILITY Learning from THE GINZA by YOSHIYUKI MORIOKA