Prof. Kanie , one of the leading SDG researchers in Japan talks about the challenges and initiatives of climate crisis and
the SDGs from the perspectives of the socially vulnerable.
Program Japanese and English with simultaneous interpretation
Part 1: Key Note Lecture "CLIMATE CRISIS and the SDGs- How can we ensure a world where women and the socially vulnerable are not left behind?"
by Dr.Norichika Kanie Professor, Graduate School of Media and Governance, Keio University
Part 2: Panel Discussion Pro.Kanie with students from the University of the Sacred Heart and the International School of the Sacred Heart
Part 3: Q&A Session
Date:November 12th Tuesday 17:00-19:00 (Open 16:40)
Venue:Sacred Heart Global Plaza (Building No.4)
Free Admission Limited to 200 people
Prior registration required
Register at https://forms.gle/7rVArAZW5DL2acaYA
BE*Hive Exhibition"Climate Change for Women and the Socially Vulnerable" held on the 1st floor of this building is open to the public. We would like to recommend you to visit the exhibition in advance.
For details, contact Sacred Heart Institute for Sustainable Future : jimu-kyosei@u-sacred-heart.ac.jp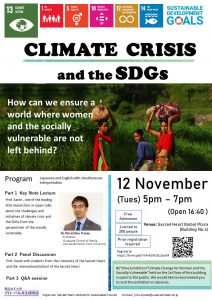 http://kyosei.u-sacred-heart.ac.jp/kyosei-wp/wp-content/uploads/2019/10/57d44e3bb9575ec991696a63ecf5db64.pdf