We exhibit various art works by a great number of artists under the theme of "refugees / displaced people". Each of them is ingenious; we can not only feel the message of each artist in the work, but also, this art can spark your own curiosity and imagination. Continuing from last time, we will introduce more art works.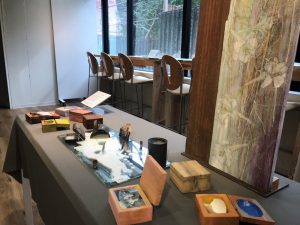 "Born, Reborn-The Story of Lily and Mr.Y-" Mariko Tachikawa
Memory boxes leading to Mr. Y (1914-1989) 's family.
Scenery of scents, colors and memories.
Please feel free to open the boxes one by one.
You may feel close to a person you have never met.
It should trigger a sensory experience which then connects to memories.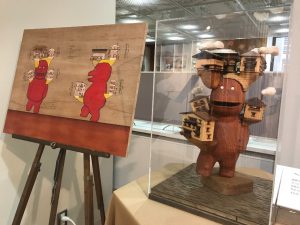 "The Lost World" Arata Ohashi
A planet where humans who lost their hometown arrive.
There were once living creatures like dinosaurs, which were lost on earth.
Eventually a strange symbiotic relationship was established.
It is like a reconstruction of The Lost World.
Finally, we will introduce wooden furniture made from plywood.
BE*hive has racks, tables and counters and a reception desk with beautiful wood grain. These were made by woodworking artist Mr. Katsuo Nagasaki, using thin pieces of cedar from trees near the Tsukui area (along the Doshi river, Midori-ku, Sagamihara City). Each piece of furniture is made from one board from a single wood log. The connection between the materials is expressed through this design. We can see the traces of the lives of insects inside the bark. You can feel the life of the trees and insects, and a message of symbiosis with every living thing on the earth is found within. With such furniture created with handmade warmth, BE*hive becomes a more wonderful space.
———————————–
At BE*hive, the subtheme of "Refugees in the Middle East" will begin from this May. The current exhibition "Refugees in Japan" will continue until mid-April. Please come to BE*hive so that you do not miss it!
(Written by staff member, Yukiko Iwaoka)