In this column, we introduce several BE*hive exhibitions.  The following impressionable works of art play a great part in creating the charm of BE*hive.
We exhibit various art works by a great number of artists under the theme of "refugees / displaced people". Each of them is ingenious, and by feeling the message of the artist in the work, it can spark your own curiosity and imagination.  Below we will introduce examples of such works.
"TRACE" Kei Nakamura
This is a work that expresses how people overwrite mistakes of the past, such as conflict or misery. "What kind of tracks can be left behind from this?" Visitors' eyes will be drawn in by the power of this work.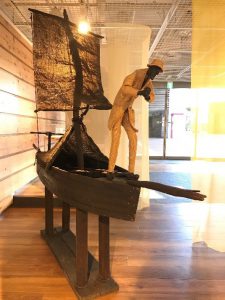 "LIVE" Takashi Minamishima
A piece of sculpture art which expresses the state of people chased due to repression, persecution, distress and other various motives, who are forced to leave their hometown.
Are there countries and people who will welcome them warmly?  Will they be able to find a place of relief?  This work makes you think of such refugees.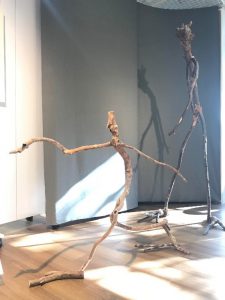 "WALK Walk and Think" Haruo Kato
This wooden art piece expresses "People walk, people think, and they continue to think while walking".  It also contains the story of a refugee who boarded a ship leaving his hometown, showing the moment of his arrival at his destination.
Next time, we will introduce more art works.  Please look forward to it!
(Written by staff member, Yukiko Iwaoka)