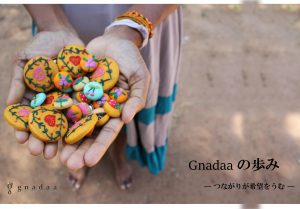 "Gnadaa" means "walk" in Sri Lankan Tamil.
This is a social fashion project to support women's self-reliance in the former civil war area in northern Sri Lanka. By turning the sewing skills that have been passed down for families into "work," Gnadaa provides continuous support to women so that they can realize their "work" in society.
There is also a connection to Japan.
Through this exhibition, we would like to show you the history of Gnadaa and the women of Sri Lanka.
Date: Monday, October 11, 2021 – Mid-February, 2021
Place: Special Exhibition Room, BE*hive, Building 4, the University of the Sacred Heart, Tokyo
Opening hours: Monday – Saturday, 10:00 am – 5:00 pm (Closed on Sundays and holidays)
Admission: Free
"The History of Gnadaa" The web exhibition is now open!
Click here to view the web exhibition.