Patagonia is doing their best to address the causes of global warming
Their stated mission is "We're in business to save our home planet."
Patagonia introduced their activities to our students.
Exhibition period: May 31-August 31, 2019
free entrance
"Better than new "
The best thing we can do for the global environment is get more use out of stuff we already own.
Choosing clothes to wear that you are attached to, and extending the life of your clothes by maintenance, reduces the need to buy clothes over a long period of time. As a result, it also reduces carbon dioxide emissions and the amount of waste and water used to manufacture products. (Summary from Patagonia HP)
We introduce the environmental protection efforts that Patagonia works on.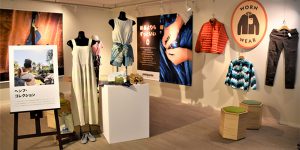 "Worn wear college tour"
Patagonia Japanese branch office has been carrying out "Worn Wear College Tour" from 31 May, starting with University of the Sacred Heart and visiting 11 universities around the country. "Worn Wear" is a program that celebrates the story of closing and gear, encourages everyone to use their clothing and gear for a long time and provides an easy way to recycle unrepairable Patagonia products. Extending the life of your important clothing and wearing it longer leads to cutting down consumption and is one of the best things that we can do for our planet. At this "Worn Wear College Tour", Patagonia in Japan considers "Responsible Consumption" with students through repairs and other events.
Date: May 31 (Fri) ※ End
July 1 (Mon) 10:00 to 17:00 Program details will be announced once they are decided
Place: University of The Sacred Heart Building 4 / Sacred Heart Global Plaza
Patagonia Japanese Branch "Worn Wear College Tour" Overview
May 31 (Fri) Group Photo
Student lined up at the repair reception desk, with the background of Tsugi Hagi (patchwork).