【ChapterⅡ】Is "child marriage" merely a story from a distant country?
Let us think about the status of women from the marriage perspective.
"Child marriage"—or premature marriage—
This exhibition will focus on child marriage, confronting the reality of what is happening now to girls around the world, and considering the present from the perspective of Japan's history.
The problem of child marriage is the result of a variety of social factors, including poverty, inadequate education, legal systems and social norms.
Through this exhibition, we aim to provide an opportunity to rethink our common sense and question what each of us can do to help realize a better society.
This exhibition can also be viewed via a virtual tour.

This exhibition can also be viewed on our website.
Please click here👇 to view the online exhibition.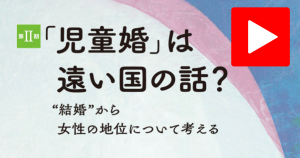 Date: October 11, 2021 (Mon) – April 28, 2022 (Thu)
Place: BE*hive, Building 4/the Seishin Global Plaza
University of the Sacred Heart, Tokyo
Hours: Monday – Saturday, 10:00 a.m. – 5:00 p.m. (Closed on Sundays and holidays)
*Please check "the BE*hive Open/Closed Information" on the top page for temporary closures.
Admission: Free