We exhibit various art works by a great number of artists under the theme of "refugees / displaced people". Each one is ingenious, and by feeling the message of the artist in the work, it can spark your own curiosity and imagination. Below, we will introduce new works that begin to display from this exhibition.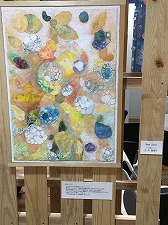 New Born (Bubble print collage) Mariko Tachikawa
A monoprint that took a trace of the shape of the bubble.
The spheres that are being made by blowing are connected and look like living.
Bubble, like form cells, reacts to slight changes and it finally disappears.
I repeatedly watched a small story occurring in a short time.
Love to something born is an internal mind in us.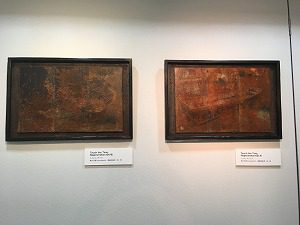 Left: "Touch the Time Regeneration 13s-VII" Kiyoshi Akiyama
Right: "Touch the Time Regeneration 13s-VI" Kiyoshi Akiyama
*Introducing part of Mr. Akiyama's work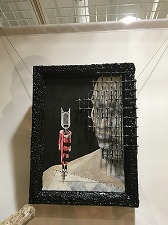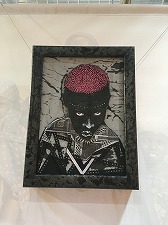 "Denizen" Kei Nakamura
*Introducing part of Mr. Nakamura's work
Next time, we will introduce special exhibition "Transforming Arms into Art".
(BE*hives staff Kimura)