One year has passed since the BE*hive opened, on September 18, 2017.
Until March 2019, we will introduce the "Refugees / Displaced People in the world".
First term (September 2017~April 2018): "Refugees in Japan"
Second term (May 2018~September 2018): "Refugees/ Displaced people in Middle East"
Third term (September 2018 ~March 2019) : "Refugees/ Displaced people in Asia and Africa"
The third term exhibition just starts from September 17. From now on, we would like to introduce the exhibition in several times.
This time we will introduce "Refugees/ Displaced people under protracted situation"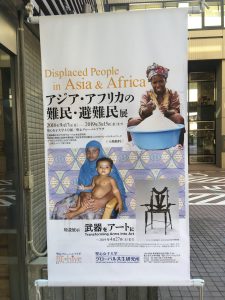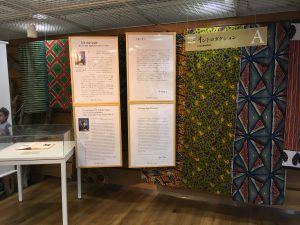 Stepping in the entrance, you can see an eye-catching colorful clothes on both sides.
These are used to make dresses in Africa by women.
On the left is a cardboard art "Wish of World Tree". What do you feel from big hand and fingers, growing towards to the sky?
There are several art works in the exhibition aiming on "Refugees/ Displaced people". Through these arts, you can imagine and feel about them.
Section A "Refugees/ Displaced people under protracted situation".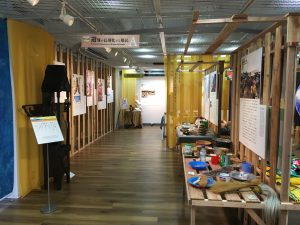 In the world, there are refugee camps which continue to exist more than 10 years. There are children born and grow up only in the camp. They do not know outside world. As people lives in the camp is prolonged, they build their own houses and begin business to maintain their life. Spontaneously, market comes up.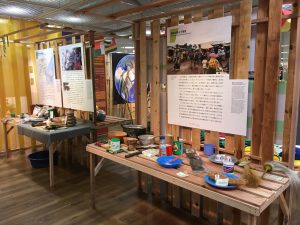 You can really imagine how many refugees are in the world and think about refugees in this place.
Next time, we will introduce you about B section: "Refugees in Africa, Tanzania.
(BE*hive staff, Kimura)